Missouri Road Map
---
The scalable Missouri map on this page shows the state's major roads and highways as well as its major cities, including Jefferson City, the capital city, and Kansas City, the most populous city.
Rural Missouri Road at Sunset, After a Thunderstorm
Missouri Map Navigation
To display the map in full-screen mode, click or touch the full screen button. To zoom in on the Missouri state road map, click or touch the plus (+) button; to zoom out, click or touch the minus (-) button. To scroll or pan the zoomed-in map, either (1) use the scroll bars or (2) simply swipe or drag the map in any direction. (The scrolling or panning method you use will depend on your device and browser capabilities.) At any time, you can display the entire Missouri road map in a new window or print this page, including the visible portion of the map.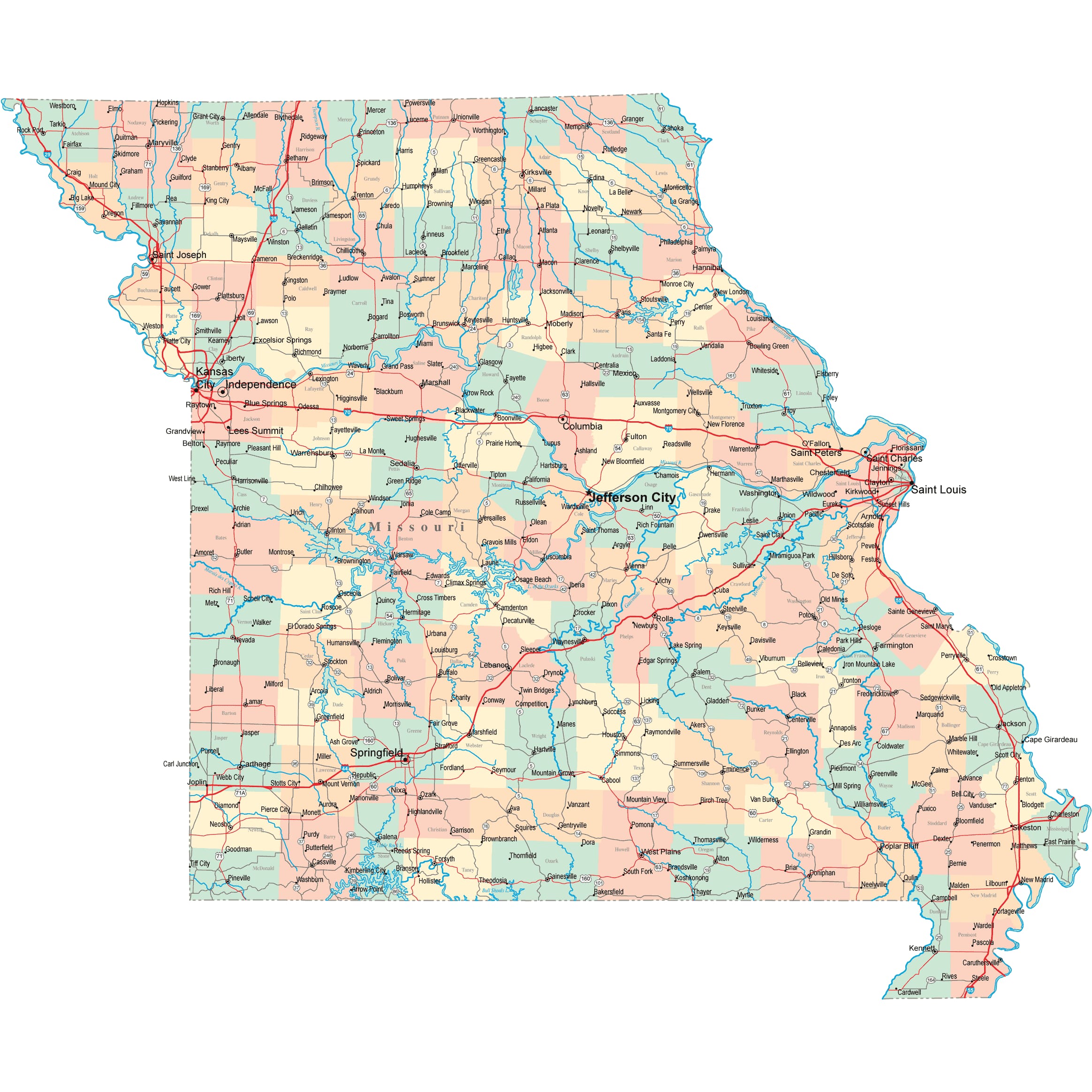 The following Map Legend and Scale of Miles apply to the road map on this page, at its largest displayed scale.
Missouri Map Legend
Missouri Map Scale Of Miles
Missouri Interstate Highways
Missouri's Interstate Highways connect its major cities and facilitate travel between Missouri and its neighboring states. I-29 follows the Missouri River between Kansas City and the southwest Iowa border, while I-35 crosses northwestern Missouri from the Kansas City to the south central Iowa border. I-70 traverses the state from east to west, and I-44 crosses Missouri from Saint Louis to the southwest. I-55 parallels the Mississippi River in southeastern Missouri, between St. Louis and the Arkansas border. I-57 and I-155 wend their ways east from I-55 into Illinois and Tennessee, respectively.
Missouri's auxiliary Interstate Highways serve the state's metro areas. I-170 serves St. Louis' northwestern suburbs, while I-270 loops around western and northern St. Louis before crossing the Mississippi River into Illinois. I-229 provides easy access to downtown St. Joseph from I-29. I-435 is a loop highway that serves both Kansas City, Missouri and Kansas City, Kansas. I-470 provides convenient access to Kansas City's southeastern suburbs.
Missouri Scenic Routes
A road trip through the Ozarks is a scenic encounter with rushing rivers, bubbling springs, lush forests, steep cliffs, and fascinating caves. Maramec Spring Park offers swimming and hiking, while Eleven Point National Scenic River in Mark Twain National Forest is home to impressive rapids and great blue herons. Visitors to Grand Gulf State Park will wonder at its "Little Grand Canyon", a mile-long gulf with 13-story vertical walls. For a list of scenic roads in Missouri, visit this America's Byways: Missouri page.
Missouri Road Travel Resources
For more information about Missouri's roads and transportation infrastructure, visit the Missouri Department of Transportation website. For Missouri road traffic conditions, visit the Federal Highway Administration's Missouri Traffic Information page.
---
Copyright © 2005-2023 State-Maps.org. All rights reserved.
Missouri-Map.org is a State Maps reference source.

Missouri Road Map
Missouri Travel Map - MO Highway Map